OSSGA in the News
January 17, 2023
OSSGA is committed to being the voice of aggregate and educating the public by celebrating the successes of our members with stories about awards and community involvement and also correcting misinformation that appears in the media. Read recent articles and responses here!
2021 Safety Innovation Award
April 4, 2022
In 2020, OSSGA introduced the Safety Innovation Award, which recognizes innovative practices, programs and projects in Ontario's aggregate industry. The award honours innovations that improve the health and safety of employees, subcontractors and the public in the areas of OHS management systems, health and safety training, wellness programs and culture.
2022 Aggregate Production Levy Schedule
January 27, 2022
2022 Aggregate Production Levy Schedule
January 27, 2022 at 2:05 PM
NDMNRF has posted the 2021 production schedule fees.
Annual aggregate fees and royalties
The Aggregate Resources Act and its regulations require aggregate operators to pay fees related to the extraction of aggregate materials. Aggregate licence and permit holders must pay an annual fee. Some annual fees are shared.
Royalties are paid to the Crown for use of Crown-owned aggregate.
Annual adjustment
Fees and royalties will be adjusted annually to account for inflation, in accordance with Regulation 244/97. This adjustment will follow the Ontario Consumer Price Index. The ministry will post the adjusted fees and royalties before January 1st of every year.
Fee and royalty rates
Fees and royalties will be charged as follows: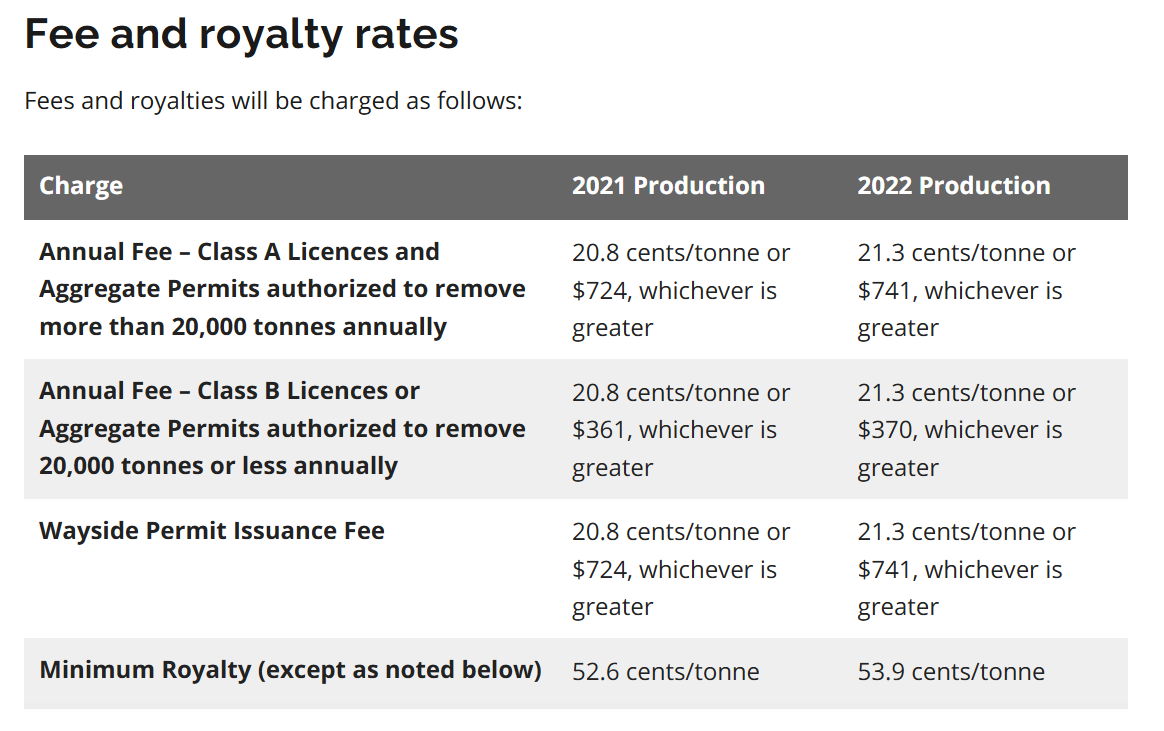 Where do fees go?
Fees collected from licences, wayside permits and aggregate permits will be distributed approximately as follows:
3% to the Aggregate Resources Trust for rehabilitation and research
61% to the local municipality in which the site is located
15% to the upper-tier municipality in which the site is located
21% to the Crown (minimum)
For more information, please click here.