Environmental Achievement Award - Dufferin Aggregates
June 5, 2017 at 12:48 PM
Milton Quarry – Town of Milton
Milton Quarry's commitment to environmental stewardship and continuous improvement was on full display in 2016. Thanks to its water conservation methods (e.g., its water recharge system) the quarry's was able to water trees in the Region of Halton's Cox Tract during a period of drought. It also continued its progressive rehabilitation effort and paired with Scouts Canada to host its annual tree-planting event.
Other eco-forward activities conducted by the quarry include re-purposing worn-out conveyor belting and installing three electric vehicle charging stations. As a Class A hydro user (average hourly peak demand between three and five megawatts), Milton Quarry also participates in the IESO Calss A Global Adjustment (GA) program to reduce hydro consumption at peak times, reducing the amount of greenhouse gases create by hydro generation.
Milton Quarry, operated by Dufferin Aggregates – A Division of CRH Canada Group Inc., in the Town of Milton, earned the 2016 Environmental Achievement Award from OSSGA.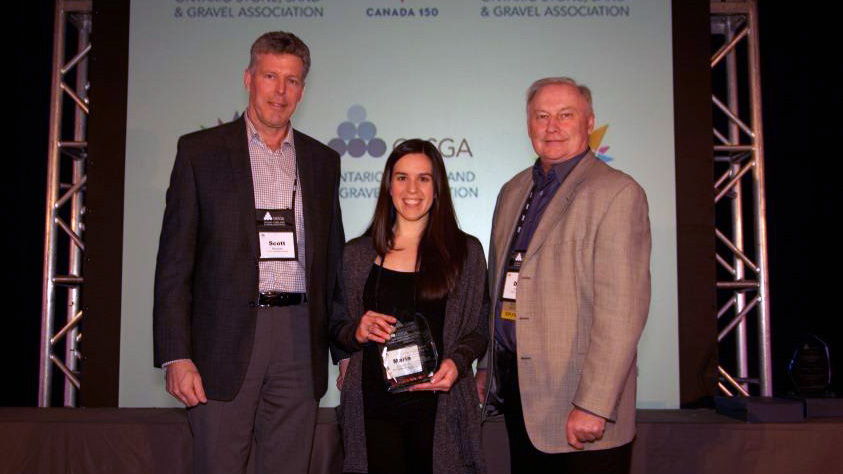 Presented at OSSGA's 2017 Annual Conference and AGM in Ottawa, Ontario, the Environmental Achievement Award recognizes OSSGA members that have developed and successfully implanted industry-leading policies, programs or projects that make positive contributions to the environment and motivate leadership within the industry.
"Receiving awards from OSSGA for our environmental and community initiatives at the Dufferin Aggregates Milton Quarry is a testament to our ongoing commitment to our local communities and our continuous efforts to be responsible stewards of the natural environment," said Dan O'Hara, General Manager. "We are very grateful for the recognition and aim to continue making meaningful contributions where we operate."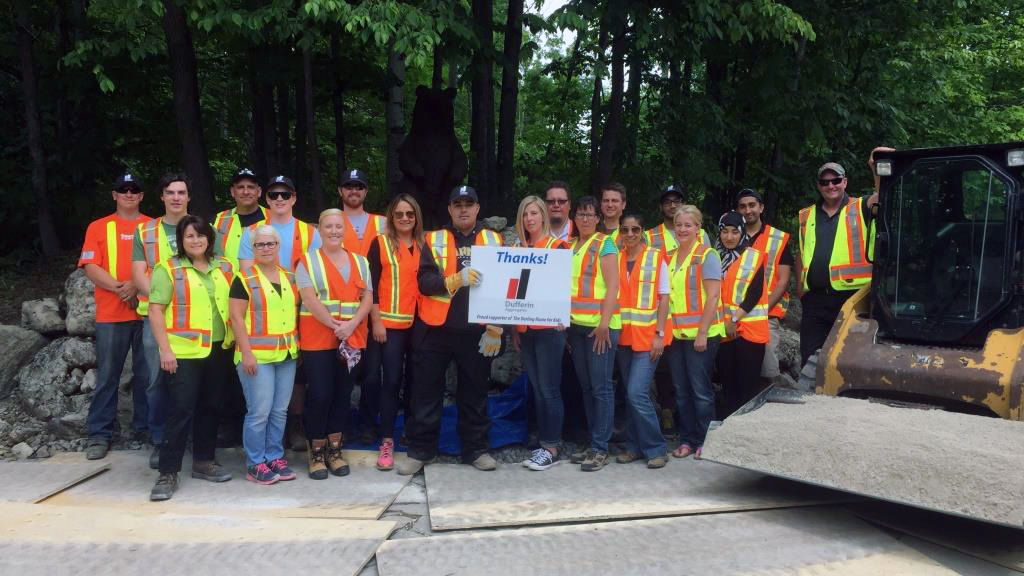 OSSGA Industry Recognition Awards Program
The OSSGA Industry Recognition Awards Program recognizes a wide range of activities that contribute to a progressive image of our member aggregate producers and the aggregate industry as a whole. A key goal is to raise the bar in the industry by highlighting operations that go above and beyond what is required by legislation.
"We encourage our members to be sound stewards of the lands on which they operate, and to be engaged and valued members of their community," said Norm Cheesman, Executive Director of OSSGA. "All of the award winners this year have met and exceeded those expectations."
Submissions for OSSGA's Industry Recognition Awards are due in November or at any time of year for the Bronze Plaque. Members are invited to download a copy of OSSGA Industry Recognition Awards Program Guide for full details of submission requirements.
Need some inspiration? Look no further than the 2016 OSSGA Industry Recognition and Student Design Award winners!