Community Relations Award – Dufferin Aggregates
April 10, 2017 at 10:31 AM
Acton Quarry – Town of Halton Hills
Building strong community ties and lasting neighbour relations are chief priorities at Dufferin Aggregates' Acton Quarry. Onsite, these commitments are demonstrated through the adoption of noise and dust mitigation processes and equipment, traffic safety initiatives, the quarry's Blasting Beyond Compliance program, and numerous environmental efforts.
Within its community, Acton Quarry supports local organizations like the Darling Home for Kids and the MS Society, and it regularly donates funds and Material to local sports clubs, schools, community events, and fundraisers. In 2016, it hosted its yearly tree-planting initiative with Scouts Canada, where Acton Quarry volunteers paired with 350 scouts to plant 3,000 native tree and shrub species as part of the site's rehabilitation and eco-friendly initiatives.
Round out its community relations, Acton Quarry hosts an annual Open House for over 200 neighbours, government officials, community stakeholders, quarry staff and their families, as well as the Earth Rangers organization. It also works with local media outlets to share news of its operations and company initiatives.
Acton Quarry, operated by Dufferin Aggregates – A division of CRH Canada Group Inc, in the Town of Halton Hills, earned the 2016 Community Relations Award from OSSGA.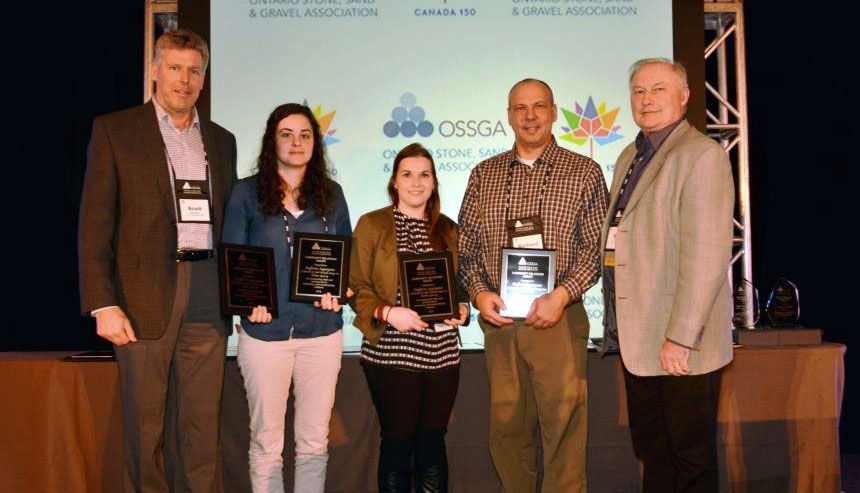 Presented at OSSGA's 2017 Annual Conference and AGM in Ottawa, Ontario, the Community Relations Award recognizes those who have demonstrated leadership in promoting good neighbour relations, community involvement, education, and industry awareness.
"CRH Canada and Dufferin Aggregates are extremely proud that our Acton Quarry has been recognized by the OSSGA for our ongoing commitment to the community," said Dan O'Hara, General Manager. "We are proud to continue working alongside local communities on initiatives related to education and training, sustainable community development and improvements in local infrastructure."
OSSGA Industry Recognition Awards Program
The OSSGA Industry Recognition Awards Program recognizes a wide range of activities that contribute to a progressive image of our member aggregate producers and the aggregate industry as a whole. A key goal is to raise the bar in the industry by highlighting operations that go above and beyond what is required by legislation.
"We encourage our members to be sound stewards of the lands on which they operate, and to be engaged and valued members of their community," said Norm Cheesman, Executive Director of OSSGA. "All of the award winners this year have met and exceeded those expectations."
Submissions for OSSGA's Industry Recognition Awards are due in November or at any time of year for the Bronze Plaque. Members are invited to download a copy of OSSGA Industry Recognition Awards Program Guide for full details of submission requirements.
Need some inspiration? Look no further than the 2016 OSSGA Industry Recognition and Student Design Award winners!