From the Archives: Material Success
April 7, 2017 at 11:18 AM
Aggregate producers contribute to the construction of Oakville's new $2.2-billion hospital
By Matthew Bradford
*This article was originally published in Volume 6: Issue 1 of Avenues Magazine
Halton Healthcare Services' new Oakville Trafalgar Memorial Hospital opened its doors to patients on December 13 – and a number of aggregate suppliers were instrumental in helping make that happen.
The construction of the new $2.2-billion medical centre represents one of the largest healthcare projects in the region. The 1.6-millionsquare-foot facility was developed on a 50-acre greenfield site in north Oakville by a joint venture made up of general contractors EllisDon and Carillion of the Hospital Infrastructure Partners team. The new structure replaces an older, smaller complex, and delivers a far more extensive range of health services.
Developed over four years, the massive construction project included a large roster of aggregate suppliers among its subtrades. They were instrumental in helping Halton Healthcare Services and their funding partners at Infrastructure Ontario turn the hospital into a reality, and keep the project on time and on budget. Dufferin Concrete was proud to be among the suppliers, delivering supplies from its Dufferin plant on Appleby Line in Burlington. In total, it supplied 77,000 cubic metres of concrete, with mixes ranging from 0.4 MPa Ufill up to 50 MPa high strength. According to Dufferin Concrete's Derek Lapierre, who works in sales and operations, a number of mixes were prepared, and considerations for the weather were made throughout the build.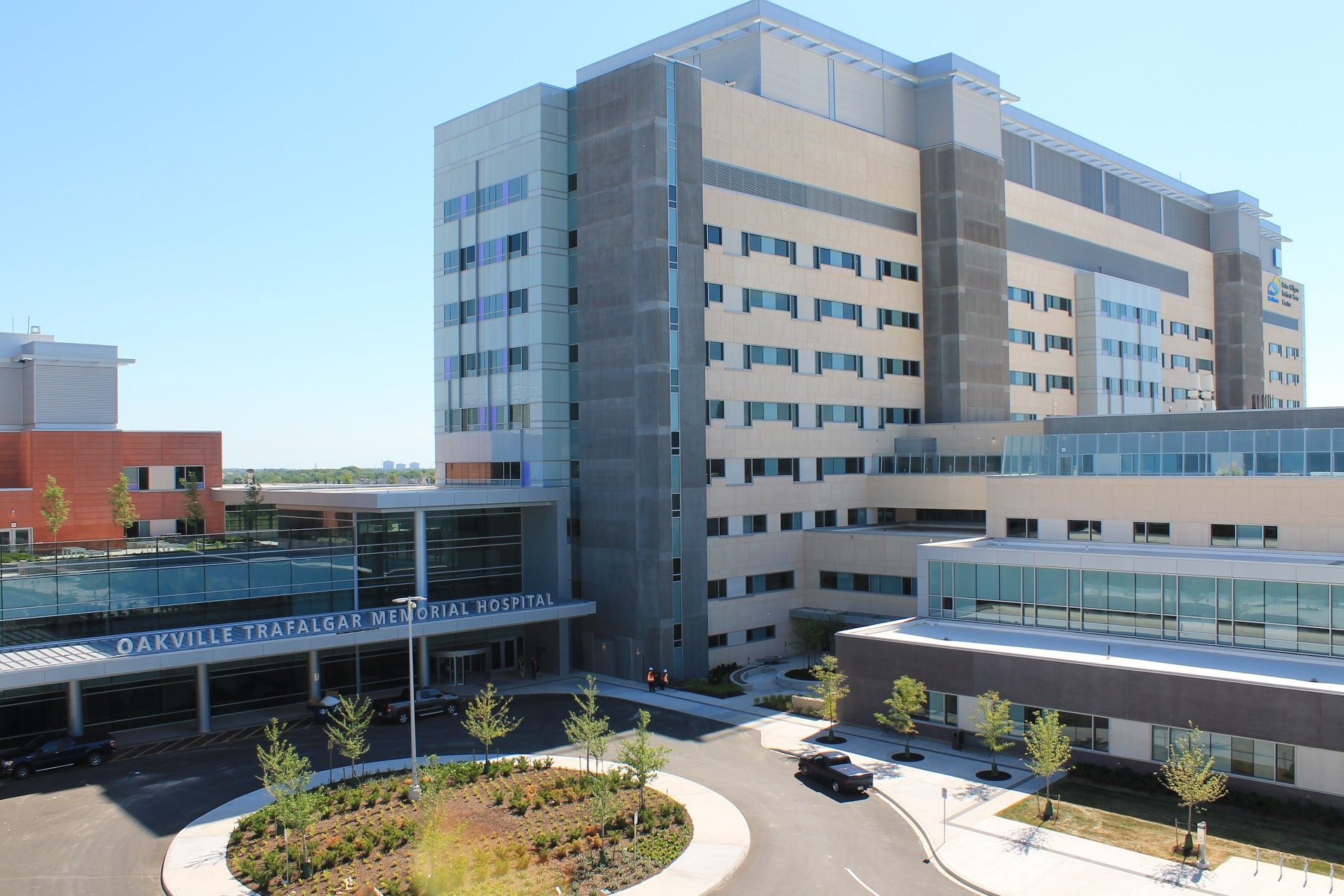 "Accelerated and winter mixes were used extensively on this project, and we worked with the site personnel from EllisDon on selecting the correct mix for the correct application," explains Lapierre. "This allowed the concrete to be placed in inclement weather while keeping the cost in mind."
Lapierre adds that delivering materials on schedule was a challenge, especially under an accelerated timeline. "Originally, this project required an average of 300 cubic metres of material daily, which equals almost 35 to 40 ready-mix truckloads a day," he notes. "However, that volume was increased from 300 to 900 cubic metres daily due to EllisDon's commitment to completing this project ahead of schedule."
Dufferin Concrete made use of three plants for the job in order to keep pace and allow the company to continue servicing its other customers. It also set up one of its own staff members on the job site to direct trucks to the right location by means of an onsite computer with links to the ready mix trucks (via GPS) as well as the company's order desk. Doing so not only ensured the trucks were directed to the proper pumps and cranes, it also allowed EllisDon to confirm the volume placed and ascertain that the concrete amount was on target.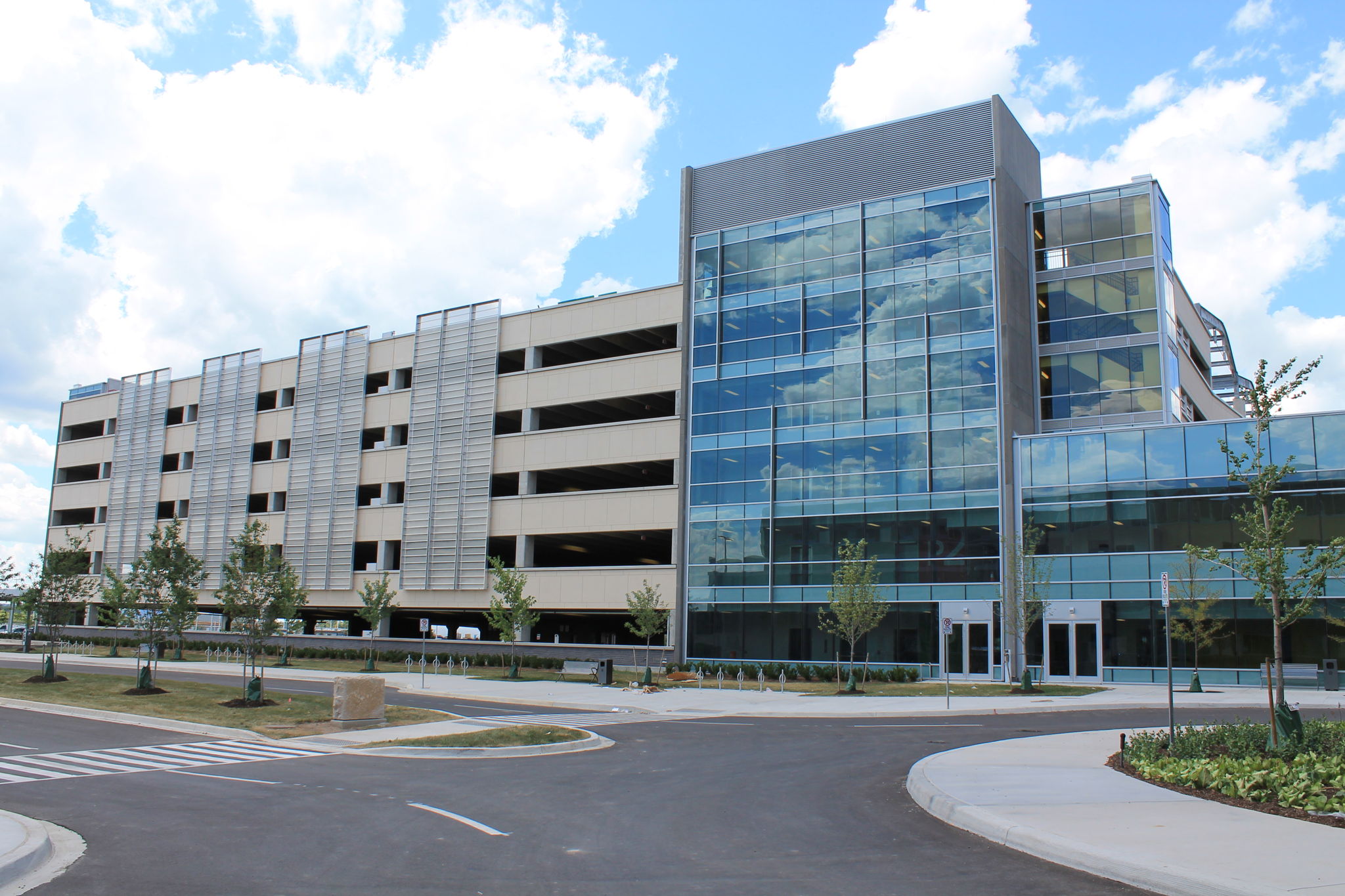 Local Supply
Another key aggregate supplier to the project was Nelson Aggregate. From its quarry in Burlington, the company provided a variety of aggregate products for many aspects of the project, from crusher run limestone used for the rough grading, temporary roads and sediment control, to high performance bedding (HPB) aggregate for grading backfill, and more.
"As a main supplier, Nelson Aggregate was able to supply most of the raw aggregate from its local escarpment quarry in Burlington, which is less than 20 kilometres away," reports Milosz Chuchla, superintendent, civil and utilities, EllisDon. "That proved to be very beneficial for us, both from a shipping and availability perspective, and an economical and environmental (perspective) as well." Chuchla adds that by using primarily locally sourced materials, supply and logistical problems that can arise in projects of this size were virtually eliminated.
Also, a chance discovery during the project's excavation phase proved beneficial: crews unearthed heavy shale deep within the foundation elevation. "That was definitely something that worked out well for the project," recalls Chuchla. "We set up a mobile crushing plant to crush and reuse the material to backfill approximately 30,000 tonnes of weathered shale."
Overall, all participants in the construction of the new hospital share a sense of pride in what they were able to accomplish. Sums up Chuchla: "Fifty-four months since breaking ground, there is a very real sense of achievement and gratification knowing this project came together seamlessly from the ground up to completion. Being surrounded by the best of all resources and very dedicated professionals in the construction industry, all working in unison, greatly contributed in helping us and the residents of Halton achieve this 'aggregate' goal."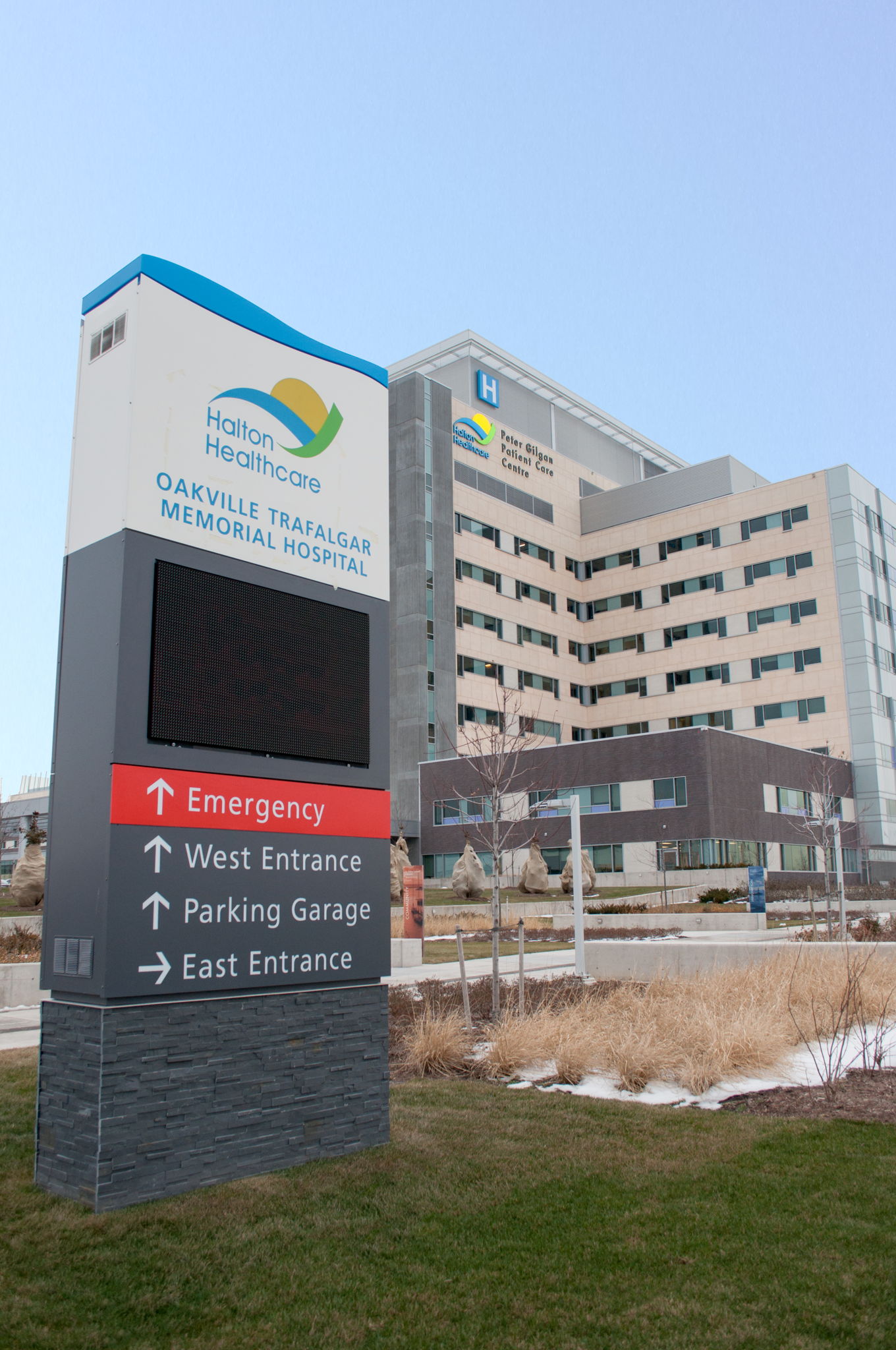 Healthcare Milestone
On November 17, Oakville Trafalgar Memorial Hospital celebrated its official opening. Ontario Premier Kathleen Wynne was on hand at the opening ceremony, where she praised the healthcare asset for its innovative design and importance within the region.
"With this hospital's opening, the Oakville community will have a facility that will meet its needs now and into the future," said Wynne, adding that the new facility represents the next step in healthcare.
The newly built hospital is triple the size of the one it is replacing, and will deliver both expanded services – including a cancer clinic – and improved patient experience. The new complex consists of: a five-storey section for continuing care, rehabilitation and outpatient programs; a 10-storey outpatient tower with operating theatres and pre-and post-operative support; and a four-storey therapeutic and diagnostic imaging section, which includes emergency care and maternal/child services. The site also features a two-storey main hospital entrance that connects the inpatient and rehabilitation blocks.
Oakville MPP Kevin Flynn also shared his enthusiasm for the project. In a press release timed with the opening, he stated, "The opening of Oakville's new state-of-the-art hospital is a significant milestone for healthcare in our community, and today marks the culmination of vision, collaboration and dedication to ensuring that residents have access to high-quality healthcare throughout all stages of life. I am pleased that the Ontario government had the foresight to invest $2.2 billion – the largest by any level of government into any project in Oakville – to meet the healthcare needs of our community."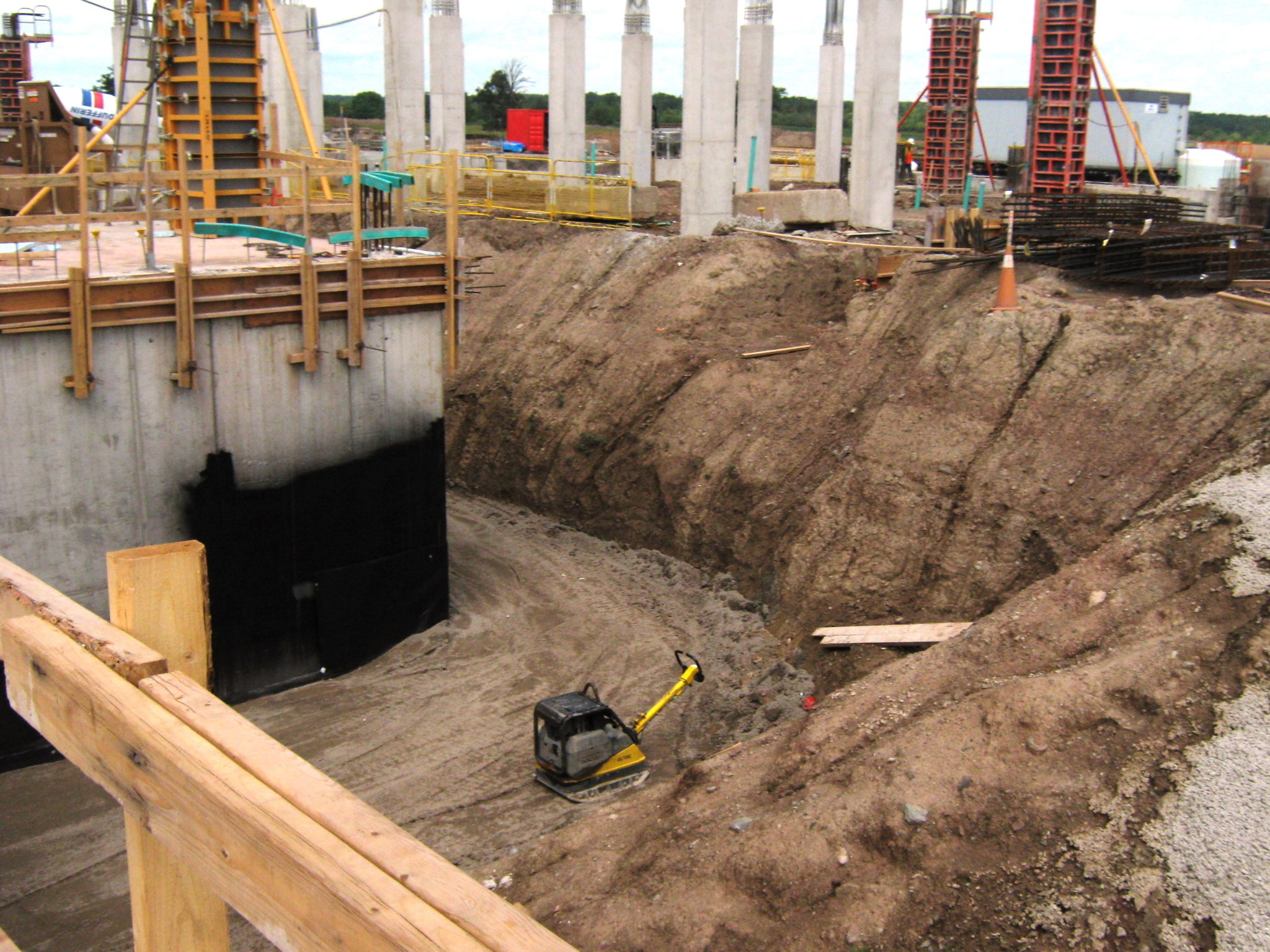 Aggregate in Numbers
Approximate totals of aggregate materials used to build the new Oakville Hospital include:
• Asphalt: 25,000 tonnes, less bitumen and recycled product (approx. 20,000 tonnes aggregate)
• Clear stone: 30,000 tonnes for slab on grade (SOG)
• Concrete (total): 80,000 m3 , 40 different mix designs for superstructure, roads and surrounding works • Crusher run limestone: 80,000 tonnes for roads
• High Performance B1 granular: 40,000 tonnes for backfill to foundation
• Various materials: 20,000 tonnes for bedding and backfill to utilities and services

Source: EllisDon