Progressive Rehabilitation Award – Walker Industries
March 28, 2017 at 1:54 PM
From 2010 to 2016, McGregor Quarry's progressive rehabilitation efforts focused on readying the site for final rehabilitation, and their vision calls for sloped walls leading down to a water-filled quarry. Rehabilitated areas include seven hectares on the site's west wall, 4.5 hectares on its east wall, and 1.38 hectares on the south side.
Throughout the years, these slopes have been sculpted and seeded, and the company has planted trees along the top perimeter. Special seed mixtures (using species native to the region) were used to prevent erosion. The rehabilitation required over one million cubic meters of overburden from onsite sources, and topsoil was spread to depths of six inches. Looking ahead, part of the final rehabilitation will include filling the quarries' south end from an elevation of 125asl to 185asl, which will require 35 million cubic metres of fill. That part of the rehabilitation area will be progressively rehabilitated over the next 100 years of the mine's operation.
The McGregor Quarry, operated by Walker Industries – Walker Aggregates Inc. in the Town of Amherstburg, earned the 2016 Progressive Rehabilitation award from OSSGA.
Presented at OSSGA's 2017 Annual Conference and AGM in Ottawa, Ontario, the Progressive Rehabilitation Award recognizes ongoing efforts of individual operators in progressively rehabilitating their sites in accordance with their site plans.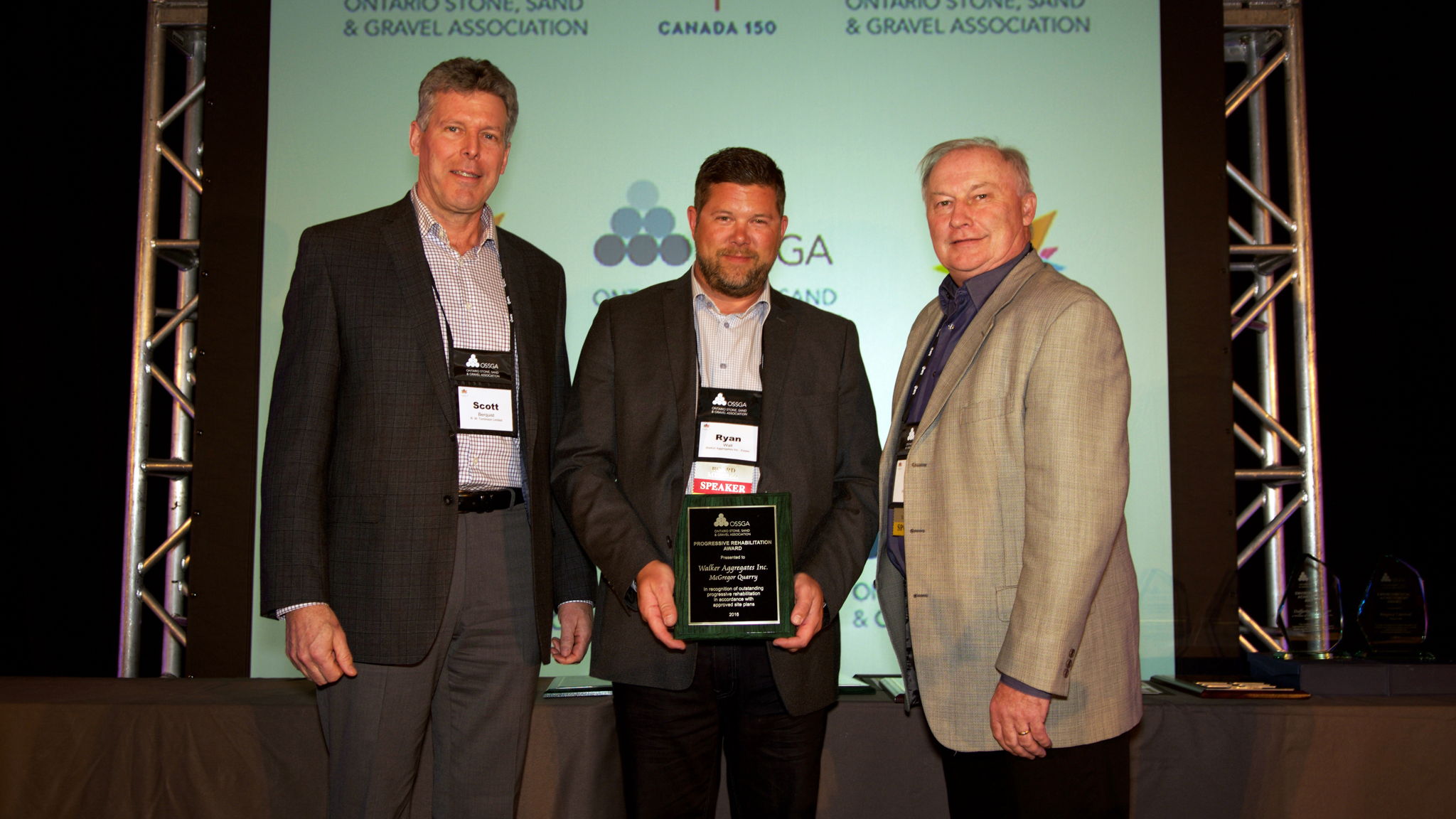 "I'm extremely honoured to be receiving three prestigious industry awards on behalf of the employees of the McGregor Quarry," says Walker Aggregates Executive Vice-President Ken Lucyshyn. "These employees host neighbourhood events, support community charities, ensure the property is clean and environmentally safe, and work to rehabilitate the mined-out areas of the quarry to a natural state with the planting of native trees and grasses. I'm very proud of the work they do."
OSSGA Industry Recognition Awards Program
The OSSGA Industry Recognition Awards Program recognizes a wide range of activities that contribute to a progressive image of our member aggregate producers and the aggregate industry as a whole. A key goal is to raise the bar in the industry by highlighting operations that go above and beyond what is required by legislation.
"We encourage our members to be sound stewards of the lands on which they operate, and to be engaged and valued members of their community," said Norm Cheesman, Executive Director of OSSGA. "All of the award winners this year have met and exceeded those expectations."
Submissions for OSSGA's Industry Recognition Awards are due in November or at any time of year for the Bronze Plaque. Members are invited to download a copy of OSSGA Industry Recognition Awards Program Guide for full details of submission requirements.
Need some inspiration? Look no further than the 2016 OSSGA Industry Recognition and Student Design Award winners!