Progressive Rehabilitation Award - Lafarge Canada Inc.
March 27, 2017 at 11:30 AM
Cook Pit - Township of Sunnidale
Cook Pit's rehabilitation efforts took place over the 2015 and 2016 seasons and focused on 1.2 hectares of the 15.2-hectare sand and gravel pit. The intent was to reshape and grade the area to match its surroundings. Material was sourced from onsite operations, including the 8,000 cubic meters of overburden and topsoil moved to complete the rehabilitation. Local contractors were hired to complete the sloping and seeding, which included a mixture of rye, fescue and native species. Existing trees were saved to promote native species regeneration.
In total, Cook Pit's rehabilitation plans were conducted over three areas between 2011 and 2016. Area 1 included the natural regeneration and overgrowth of haul routes, while Area 2 in the southwest portion of the pit required sloping and seeding. Area 3, north of the pit, was completed in 2016.
The Cook Pit, operated by Lafarge Canada Inc. - A Member of LafargeHolcim, in the Township of Sunnidale, earned the 2016 Progressive Rehabilitation Award from OSSGA.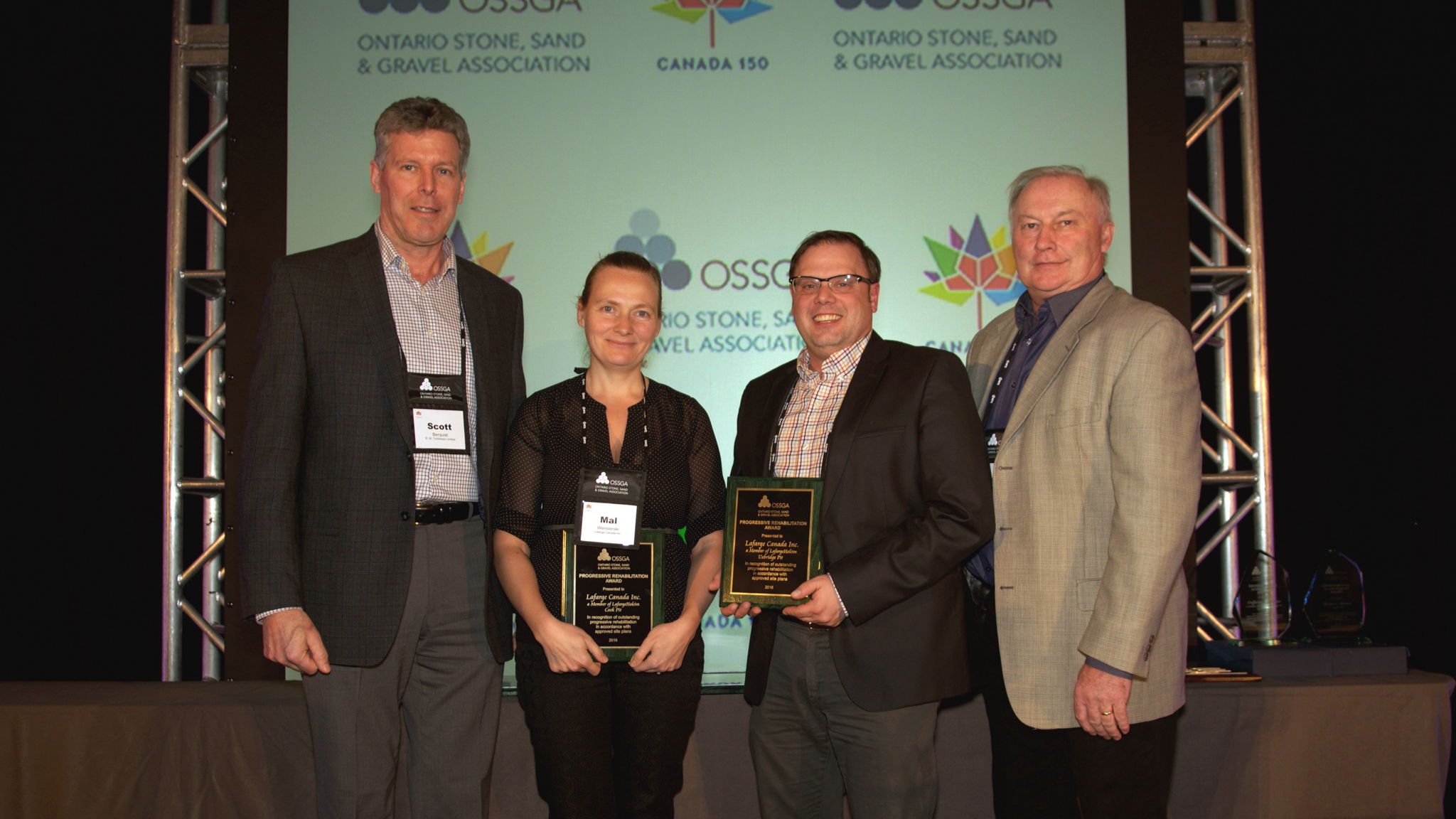 Lafarge Canada Inc. receiving the Progressive Rehabilitation Award for Cook Pit at the 2017 OSSGA Conference and AGM in Ottawa, Ontario.
Presented at OSSGA's 2017 Annual Conference and AGM in Ottawa, Ontario, the Progressive Rehabilitation Award recognizes ongoing efforts of individual operators in progressively rehabilitating their sites in accordance with their site plans.
"Through LafargeHolcim's 2030 Plan, Lafarge is committed to providing solutions using sustainable manufacturing practices and improving the environment in and around its operations. Our objective is to minimize the footprint and impact of our operations on the natural habitat," said Xavier Guesnu, Vice President Aggregates Eastern Canada and ACM Southern Ontario. "We truly appreciate being recognized by OSSGA for our rehabilitation efforts."
OSSGA Industry Recognition Awards Program
The OSSGA Industry Recognition Awards Program recognizes a wide range of activities that contribute to a progressive image of our member aggregate producers and the aggregate industry as a whole. A key goal is to raise the bar in the industry by highlighting operations that go above and beyond what is required by legislation.
"We encourage our members to be sound stewards of the lands on which they operate, and to be engaged and valued members of their community," said Norm Cheesman, Executive Director of OSSGA. "All of the award winners this year have met and exceeded those expectations."
Submissions for OSSGA's Industry Recognition Awards are due in November or at any time of year for the Bronze Plaque. Members are invited to download a copy of OSSGA Industry Recognition Awards Program Guide for full details of submission requirements.
Need some inspiration? Look no further than the 2016 OSSGA Industry Recognition and Student Design Award winners!